NVIDIA GPUs (as well as Intel processors with built-in GPU and a motherboard with built-in Intel graphics) are capable of hardware-based video encoding and can drastically decrease encoding time.
NVIDIA NVENC : H.264 –  NVIDIA CUDA capable cards (click for list) or H.265 – GeForce 900 series (Maxwell 2nd generation) or later. Click –> NVIDIA H.265 encoder information.
Intel QSVEncC: H.264 – 2nd thru 4th generation Intel processors or H.265 – 5th & 6th (+) generation Intel processors. Click –> Intel Quick Sync explained.
---
My setup: NVIDIA GeForce GTX1060 (Purchased for $229 US – 9/2016):
3GB GDDR5 192 bit
Core Clock 1594 MHz
Boost Clock 1809 MHz
1 x DL-DVI-I 2 x HDMI 2 x DisplayPort 1.2
1152 CUDA Cores
PCI Express 3.0 x16
Computer Mainboard/Processor :
MSI Z170A Gamer M7
Intel I7 6700
---
StaxRip 64 setting: NVIDIA H.265 – NVIDIA (acvuvid native).
Typical x265 HEVC encode times (approximate):
60-minute 1080p video: 3 min (compared to 1.5 hours for CPU encode).
60-minute 720p video: 1 min 30 sec (compared to 35+ min for CPU encode).
45-minute 720p video: 1 min 10 sec (compared to 30+ min for CPU encode).
1080p movie x265 HEVC encode time:
Example: Star Wars – Force Awakens (2hr 18min 21 GB BDRip original) took 3.75 hours to re-encode as x265 via CPU (Intel I7 3.5GHz). Encode using the NVIDIA GPU took 10 minutes to re-encode an equivalent quality 1080p 3 GB x265.
HEVC H.265 is the first codec efficient enough for the high-quality HD video portion of the video-audio composite file to be smaller than an accompanying 484 Kbps 5.1 audio track.
Screen grab .x264 verses .x265 (right click – save image to your computer or open image in new tab to view full-size 1280×714).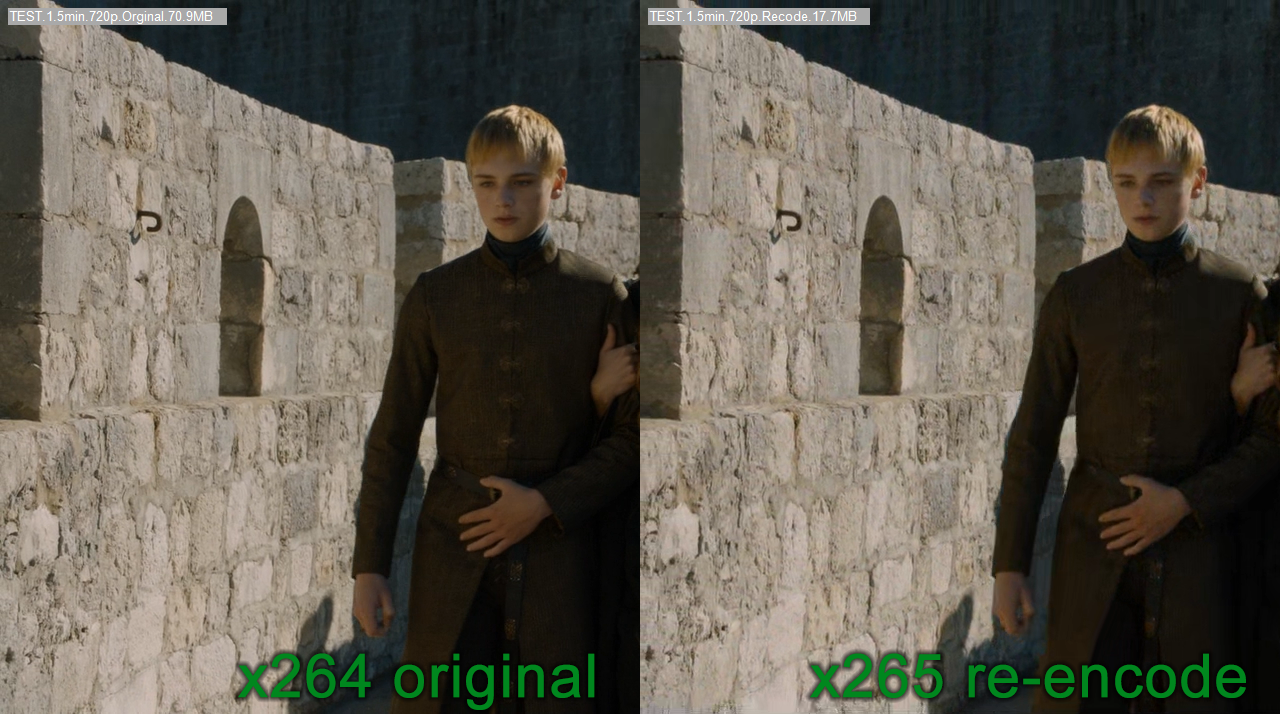 The original 720p x264 file (with AC3 384kbps 6ch audio) is 2.65GB. The re-encoded high-quality 720p x265 file (with AC3 192kbps stereo audio) is 284MB (both files are equal duration – 1 hour). The x264 screen grab is from the original file. Even though the x265 screen grab is from an additional generation video, there is very little difference between the two images.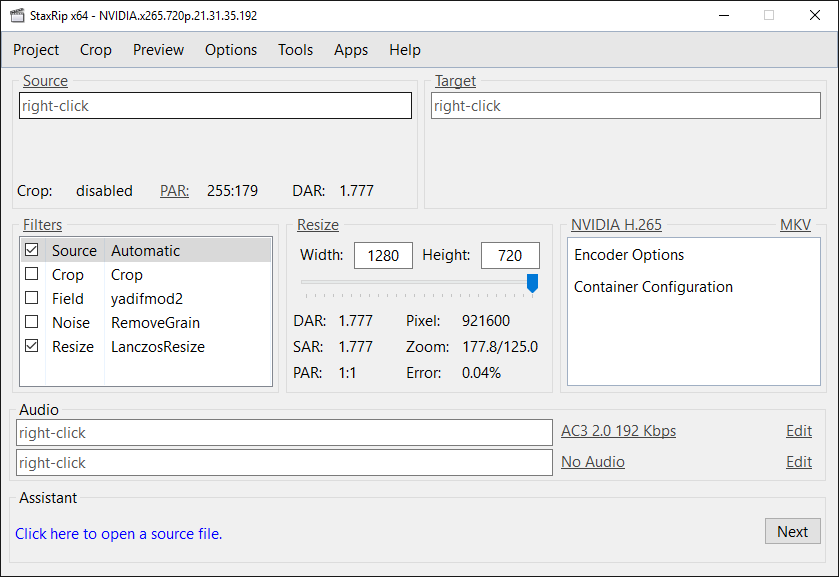 Cropping does not work with properly with NVEncC x264 and x265 encoders. Cropping does work with QSVEncC and AviSynth/VapourSynth encoders. Some weirdly encoded (usually older)  files may require the use of the AviSynth/VapourSynth encoder.