NVIDIA GPUs (as well as Intel processors with built-in GPU and a motherboard with built-in Intel graphics) are capable of hardware-based video encoding and can drastically decrease encoding time.
NVIDIA NVENC : Link: NVIDIA H.265 encoder information.
Link: NVIDIA VIDEO CARD Capabilities Matrix
Intel QSVEncC: H.264 – 2nd thru 4th generation Intel processors or H.265 – 5th & 6th (+) generation Intel processors. Link: Intel Quick Sync explained.
---
NVIDIA – H.265 Support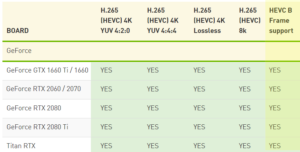 Previous setup: NVIDIA GeForce GTX1060 (Purchased for $229 US – 9/2016)
NEW setup: NVIDIA GeForce GTX1660 TI (Purchased for $275 less $30 rebate = $245 US – 10/2019)
The GeForce 1660 (+) allows encoding of B Frames (w/reference frames) and several other enhancements which yield smaller files with greater quality.
Link: NVIDIA VIDEO CARD Capabilities Matrix
6GB GDDR6 192 bit
Core Clock 1530 MHz
Boost Clock 1845 MHz
1 x DL-DVI-I 2 x HDMI 2.0b x DisplayPort 1.4
1536 CUDA Cores
PCI Express 3.0

Computer Mainboard/Processor :
Asus Prime 570-P
Ryzen 9 3950 16 Cores 32 Threads
---
StaxRip 64 (11/2019 – 2.0.6.0 Stable)
Settings: NVIDIA H.265 – NVIDIA (Hardware).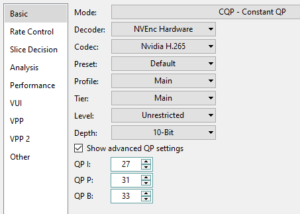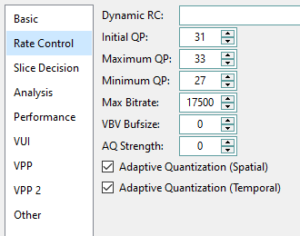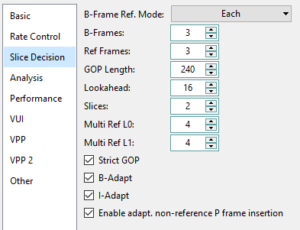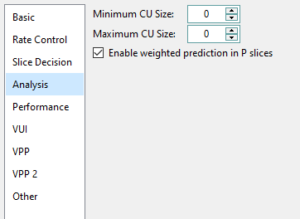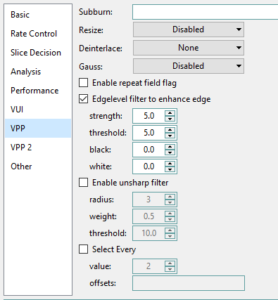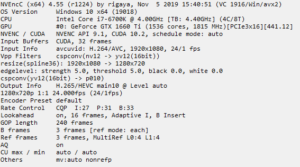 Typical x265 HEVC encode times (approximate):
60-minute 1080p video: 3 min (compared to 1.5 hours for CPU encode). 250-400 MB HQ video file size.
60-minute 720p video: 1 min 30 sec (compared to 35+ min for CPU encode). 150-250 MB HQ video file size.
45-minute 720p video: 1 min 10 sec (compared to 30+ min for CPU encode). 100-200 MB HQ video file size.
Being updated…
1080p movie x265 HEVC encode time:
Example: Star Wars – Force Awakens (2hr 18min 21 GB BDRip original) took 3.75 hours to re-encode as x265 via CPU (Intel I7 3.5GHz). Encode using the NVIDIA GPU took 10 minutes to re-encode an equivalent quality 1080p 3 GB x265.
HEVC H.265 is the first codec efficient enough for the high-quality HD video portion of the video-audio composite file to be smaller than an accompanying 484 Kbps 5.1 audio track.
Screen grab .x264 verses .x265 (right click – save image to your computer or open image in new tab to view full-size 1280×714).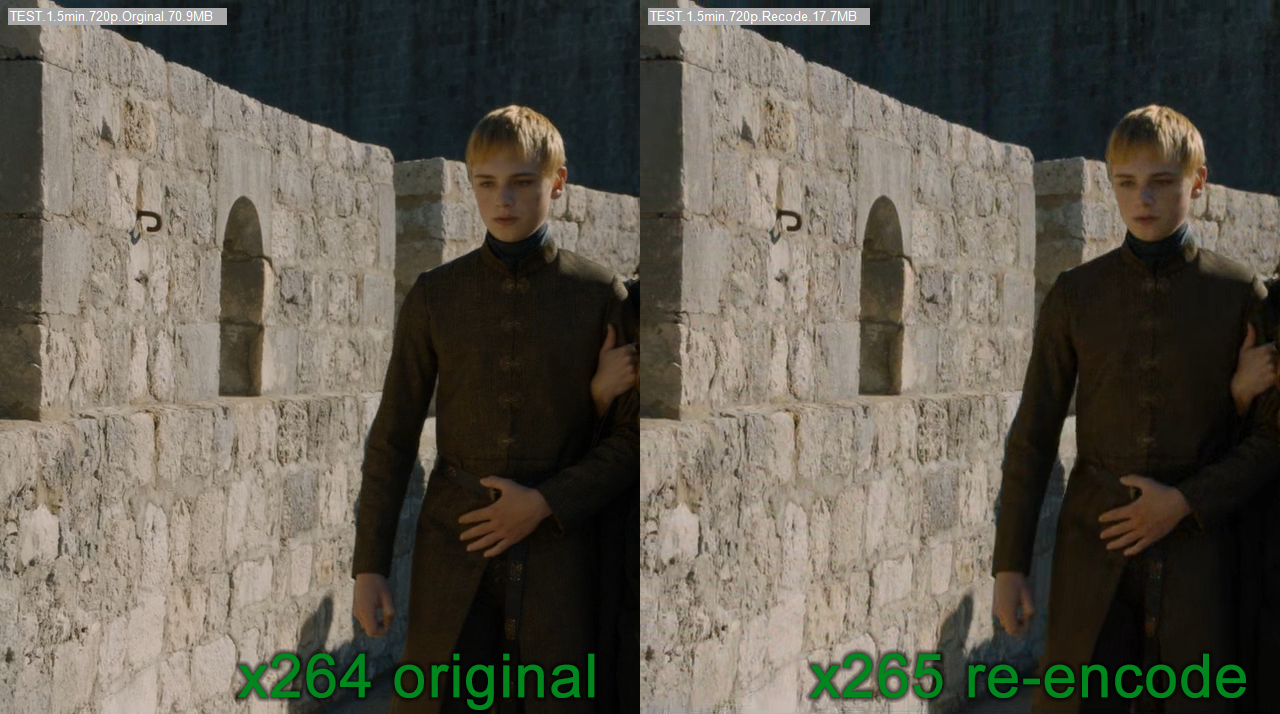 The original 720p x264 file (with AC3 384kbps 6ch audio) is 2.65GB. The re-encoded high-quality 720p x265 file (with AC3 192kbps stereo audio) is 284MB (both files are equal duration – 1 hour). The x264 screen grab is from the original file. Even though the x265 screen grab is from an additional generation video, there is very little difference between the two images.